About Us
We make health easy so families can get back to life.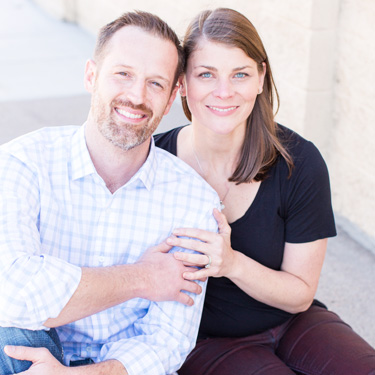 Align Family Chiropractic is here for your family. Clayton chiropractors Dr. Matt and Jessica Thompson come from a long line of chiropractors, almost 60, so you can say it's in their blood! The support they provide in the office and in the community comes from a desire to help families meet and beat their health and wellness goals.  Currently Dr. Matt is seeing patients full time while Dr. Jess supports Align as the office manager (while juggling mom duties as a mother if 4.)  Beginning summer 2020, Dr. Jessica will begin seeing patients at Align as their youngest turns one).  Align is specifically trained to care for families, pregnancy and pediatrics through the ICPA (International Chiropractic Pediatric Association) and Epic Pediatrics, and holds Webster certification. Align utilizes over 20 years of combined experience, state-of-the-art technology found nowhere else in eastern North Carolina, and ordained instincts to look past signs and symptoms to find the root cause of ill-health. Health is a journey that starts with an understanding of underlying cause. Along with each and every family member, we determine the root cause, if we can help, and what the plan of action is to move toward and maintain health.
It is health that is real wealth and not pieces of gold and silver. ~ Gandhi
Our Practice Philosophy
We know the brain is the first organ that develops in every baby, and the brain controls the function of literally every cell, tissue, organ and system in the body. This includes the body's ability to self heal. The brain does this by communicating with the body, back and forth through the nervous system (brain-stem, spinal cord, spinal nerves). When the body endures too much stress (physical, chemical, and emotional) at one time or over the course of time, the body mal-adapts, causing interference with the communication along the nervous system. Often times, the first spinal misalignment (subluxation) occurs during the birthing process. When this happens, the body immediately begins moving toward sickness and dis-ease, including an in-ability to self heal. The body will talk to us through various signs and symptoms, but we usually don't listen until pain appears, and usually don't act until pain gets in the way of our daily activities.
By the time someone feels pain, the problem has usually been there for months, years, or even decades. That's why Align Family Chiropractic takes the time in the beginning to gather all the facts, determine the root cause, and develop an individualized plan of action for your chiropractic care.
Practice Features
Dr.Matt has done 70,000+  adjustments over 15 years.  In that time, he's practiced a wide-range of adjusting techniques from heavy-handed manual adjustments to soft, gentle touching (the lightest touch equal to the amount of pressure one uses to check for tomato ripeness.)  He's worked with newborns, pregnant women and the elderly and knows that what works for them may not work for you and vice versa.
With the patience and tools to listen to you and appreciate where you're at on the health spectrum, we can truly tailor your adjustments.
We invite you to experience Align Family Chiropractic today and let us show you who we are. We want you to visit us, be heard, and leave as excited about the process as we are to help you. Contact us now!
---
About Align Family Chiropractic | (919) 585-4885