Chiropractic Care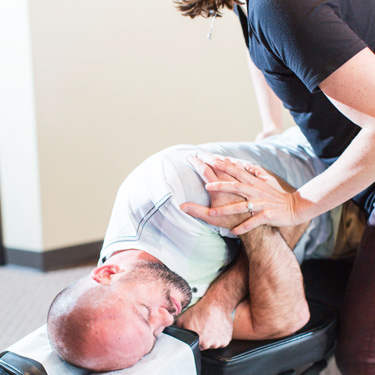 The brain is the first thing that develops; it is the master control system coordinating every feeling and function within your body.
When we're in pain, we often turn to medication for relief. Sometimes, we are even told that surgery is the only option. We'd like to offer you a natural, safe option you may not have tried yet!
Through degeneration, trauma, injuries or stress — our body's communication systems begin to break down. Clayton chiropractors Dr. Matt measures the health of the nervous system using advanced scanning technology, then identify the problem and use chiropractic techniques to adjust and get your brain and body back on the same page. Align is especially experienced in helping children and pregnant women with gentle, effective care.
Benefits of Chiropractic Care
At Align Family Chiropractic we care deeply about our patients. You've come to us for help and we want you to experience the many benefits of chiropractic care. We truly believe that when you are your best self, every one around you reaps the benefits.
Just a few benefits are:
Pain relief
Feeling at ease and relaxed
Surgery prevention
Heightened body function and immunity
Healthy pregnancy
Improved mental clarity
Stress relief
and many more!
Our Techniques and Services
Dr. Matt has had the privilege of working with many experienced chiropractors. The extensive hands-on experience and specialized training is evident in your tailored care. The passion for family care led to training and Webster certification through the International Chiropractic Pediatric Association (ICPA). Dr.Matt's post-doctorate pregnancy, pediatric and family education is ongoing as he continues to stay on top of current research and techniques.
Graduating from the prestigious Life University introduced Dr. Matt to innovative techniques, philosophies and science that allows him to tailor your adjustments, utilizing a range of techniques from activator, drop, SOT, diversified, and many more. The INSiGHT systems is utilized to detect patterns of stress, changes in the body and identify your problem areas.
Helping Patients Feel Comfortable
Dr. Matt and Dr. Jessica will talk you through every step. We want to educate you so you understand the process and can be empowered with your health decisions. We'll let you know what we're doing and why we're doing it so that there is clarity in the process. You are in control of your health so book your appointment today!
---
Chiropractic Care Clayton | (919) 585-4885